The 2016 Sioux Falls Zombie Walk is over…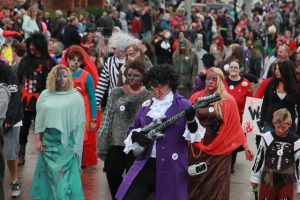 Not to worry!  Our Zed Head team are already preparing their brains for next year!!!
This year's walk was cold and dreary, but well, isn't that par for the course with a zombie apocalypse?  Huge thank you to everyone that came and participated despite the cold day.  You supported 2 great organizations in our community, and provided entertainment to many!!
*********************************************
Make sure you go vote in this year's
And for more great photos from the 2016 Zombie Walk, check out
2016 Zombie Walk Photos (Flikr)
*********************************************
Your participation in this year's Zombie Walk supported:
The Sioux Falls Roller Dollz is a skater owned and operated, non-profit 501(c)3 organization and a member of the Women's Flat Track Derby Association (WFTDA). We work together as a league to empower women and enrich our community through competitive sport.  Through generous monetary donations and volunteering of our time, both on and off the track, we strive to improve our community while providing a unique entertainment opportunity suitable for everyone.
We are a team comprised of women from all walks of life and we demonstrate that women can be strong and independent and excel in a competitive sports world.  We proudly represent Sioux Falls in the Roller Derby community at both a National and an International level.
*************
And the 2016 Zombie Walk Charity
BE A Lifesaver is an organization aimed at suicide awareness and prevention in teens and young adults. We want to challenge the stigma associated with depression and mental illness so that people reach out for the help they need. 80% of those that die from suicide, tell someone what they are planning… We NEED to educate the teens themselves if we are going to have any success in saving lives! They just have to be educated that depression is a medical condition and they cannot talk their friends out of feeling that way. & it works! They want to know what to do!
*********************************************
For the past decade, the Sioux Falls Zombie Walk has attracted an audience and participants of ever growing numbers, becoming the most anticipated Halloween event of the season. This event is not exclusively for the walking dead. We are opening up the parade to include ANYONE that wants to come down in costume and precede the zombies in our Halloween Parade.
The parade is an excellent opportunity for your business, organization or family and friends to showcase your creativity as you prepare for the Halloween season. Your group's entry will be seen by thousands of people that evening. We anticipate some VERY creative entries, so let your creative juices ooze and scare our socks off! The Halloween Parade entries and Zombie Walkers will compete for a multitude of awards and prize packages, judged by the public.
Gruesomely Yours,
The Sioux Falls Zombie Walk & The Sioux Falls Roller Dollz
Save
Save
Save
Save
Save
Save
Save
Save
Save
Save
Save