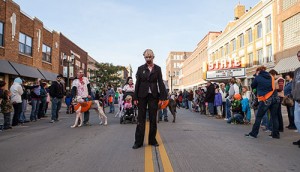 Calling all zombies!
Make plans to stop out to the Red Eye Lounge on North Cliff on Saturday, July 26th for Zombie Walks' "Zombie Make-up 101″ and poster contest. Whether you're an experienced zombie or have never tried your hand at zombie make-up before, we're got what you're looking for!
Starting at 9PM we will be doing several tutorials demonstrating how to apply zombie make-up in a variety of styles. Come dressed as a zombie and have your photo taken by our professional photographer to help promote the walk on Facebook and get entered to be the 2015 Boo Falls Parade poster zombie!
And don't worry, since the Red Eye is home to all-day twofers, you'll be certain to have a great night! Find us on Facebook and join the event at https://www.facebook.com/events/618702741570153/?ref_dashboard_filter=upcoming.
UPDATE:  Zombie Costume Contest winners are a group! Desiree Briski (from Sioux Falls), Nick Rodriguez (Sioux Falls) and their friend Dani Koehne (from Worthington).  Congratulations!